Leftover Vegetable Spaghetti Frittata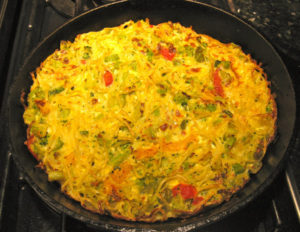 4 servings
This is perfect the perfect dish if you have a handful of leftover whole wheat pasta to throw in. Or use up any leftover cooked veggies instead of the frozen.
1 – 2 cups leftover cooked whole wheat pasta – any shape!
2 teaspoons of olive oil, divided
1 large onion, sliced, or use 1 cup frozen chopped
4 cups veggies – may be mix of leftover cooked veggies or frozen veggies such as spinach, broccoli, zucchini, tricolor peppers
4 eggs
freshly ground pepper to taste
1/4 tsp salt
2 ounces of shredded reduced sodium cheddar cheese if desired or 1 cup of your favorite marinara sauce
In a large skillet, heat 1 teaspoon olive oil in pan on medium heat and add onion. Saute until soft and slightly browned. Remove form pan and place in a medium sized bowl. If using frozen veggies, add and cook for until heated through and any liquid is evaporated, add to onion. If using leftover veggies that are already cooked add these to onion without heating. Whisk together eggs with salt and pepper. Add vegetable mixture and leftover pasta to eggs, combine well. Add remaining 1 tsp of olive oil to an oven proof skillet (cast iron works great). Heat and add egg mixture to skillet. Cook over medium high heat for 5 minutes until middle is set. Cover if it is cooking too slowly. Finish frittata under broiler for 2 minutes to brown top. Top with cheese or marinara sauce. Divide into 4 wedges and serve.